New York has a new museum, or at least a new location for an institution. In 2016 the Whitney Museum of American Art moved down to the waterfront at the southern end of the High Line, with the new building (designed by Renzo Piano) widely lauded as a success. While most reviews and articles on the new Whitney focus on the architectural highlights and nuances, such as the design's openness creating a seamless integration with the vibrant surrounding streets, the Atlantic published an article on its flood defenses. To wit: … the new Whitney's most intriguing feature might be one that's gone largely unnoticed: its custom flood-mitigation system, which was designed halfway through the museum's construction, in the aftermath of 2012's Hurricane Sandy, when more than five million gallons of water flooded the site.
And:
The Whitney, whose lobby is 10 feet above sea-level, is now designed to be water-tight against a flood level of 16.5 feet—seven feet higher than waters reached during Hurricane Sandy. The fortification includes a 500-foot-long mobile wall, comprised of stacked aluminum beams, that can be erected in less than seven hours.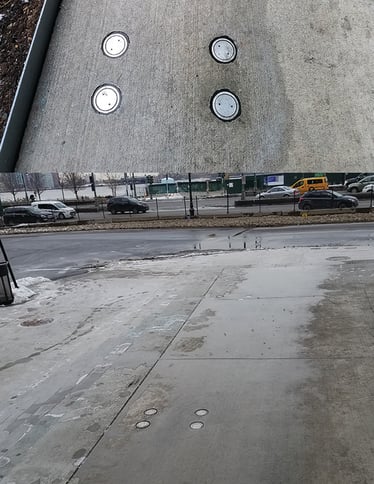 Last week, I was in NY and I (finally) was able to check out the High Line and the new Whitney. It was a Tuesday, so it was closed…but at least I got to see the flood defenses first hand. Here are the anchors for the flood wall.
The Whitney is in good shape for flood risk. With the lobby raised 10 feet above sea-level (while there, I measured 16 feet above the Hudson, but I didn't check the tide), it would be exposed to a Category 1 storm surge. But with that wall, when installed, rising a further 6 or 7 feet, it's good for a Cat 3 storm. Recall Sandy was just a tropical storm (Cat 0). Further, it has those giant navy-style doors to shut against the water. Flood insurance should be pretty straight forward for the museum.

But wait! It is in FEMA's Special Flood Hazard Area (SFHA), in an AE zone. Uh oh. It's 2 feet below the BFE. Oh no!!! They'll never be able to get flood insurance now, because commercial properties are notoriously difficult to cover for flood when they're in the SFHA.

If there are any underwriters out there who are willing to write flood on the Whitney (pick your attachment, pick your limit – their collection is priceless), they are the ones who are poised to innovate US property insurance. Forget disruption coming from an insuretech – putting flood coverage on the Whitney and other property like it is the innovation that insurance needs. And there is no reason it can't happen now –the analytics are available, waiting for the right underwriters to see the opportunity, and grasp it.