It is not often a new cat peril appears, but Oklahoma is now an earthquake zone. The changing seismicity in the state is so pronounced that the USGS is committing to updating their earthquake hazard maps annually, instead of every five years. The high risk blotch on the USGS maps dwarf the better-known (but still relatively obscure) New Madrid zone in southeast Missouri and the Cascadia zone in Washington. Note: these are "chance of damage" maps, and do not express severity.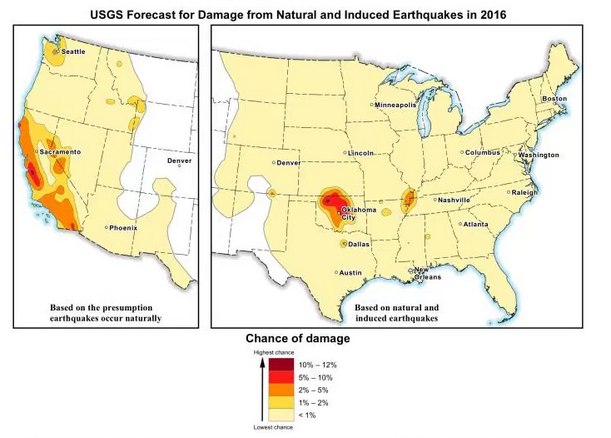 The arrival of a localized cat peril has provided a unique glimpse into how insurers and regulators work together to ensure the risk to property is adequately mitigated. According to AM Best (May 25, mind the subscription wall) the Oklahoma Insurance Commissioner, Mr. John Doak, is making a determination right now on whether the insurance market for quake coverage is competitive enough to avoid further state regulation. His decision will determine whether state regulators will have more or less influence on insurance pricing and terms. Specifically, according to the AM Best article: "Doak is concerned recent filings do not substantiate the need for increased rates, that the use of multi-line discounts discourages consumers to switch carriers for a lower price and that 70% of earthquake policies are sold by just a few companies (Best's News Service, April 19, 2016)."
Obviously, the insurance advocacy groups believe there is plenty of competition, and further regulations are not needed. The Property & Casualty Insurers Association of America (PCI) states "the market is competitive because 119 insurers offer a variety of earthquake policies." (One hundred and nineteen insurers!) And the American Insurance Association requested that Mr. Doak "declare the market competitive and to focus on addressing the causes of earthquake activity and how to reduce them."
Here is the problem: Now that central Oklahoma is a high risk seismic zone, insurance coverage for quake will be very expensive if only people in the high risk areas purchase it. Currently, the only way to limit those prices will be through regulated premiums, which will reduce the number of insurers willing to write the risk, which will become a vicious cycle.
The context offered by Oklahoma Earthquake is enlightening when considering other idiosyncrasies of natural catastrophe insurance in the USA. While governmental oversight of insurance (and all financial industries) is universally accepted for completely valid reasons, there is an aversion to letting insurance function the way it is meant to. Insurance, since its inception over 300 years ago, thrives by spreading the risk across as much of a market as possible. That distribution of risk across high and low risks is the mechanism that makes insurance affordable AND profitable. If it is able to spread risk adequately, regulation needs are minimized. However, cat insurance in this country is concentrated in high risk areas, which is anathema to the fundamentals of insurance.
Thus, the way to make insurance for Oklahoma quake affordable is to start bundling quake with standard homeowners policies everywhere. Such a change would require completely different regulations, that would ultimately be easier to administer and adhere to. And the same goes for flood and for wind. It's not a new idea, but it's an idea that works elsewhere in the world and which is now supported by the necessary underwriting tools.